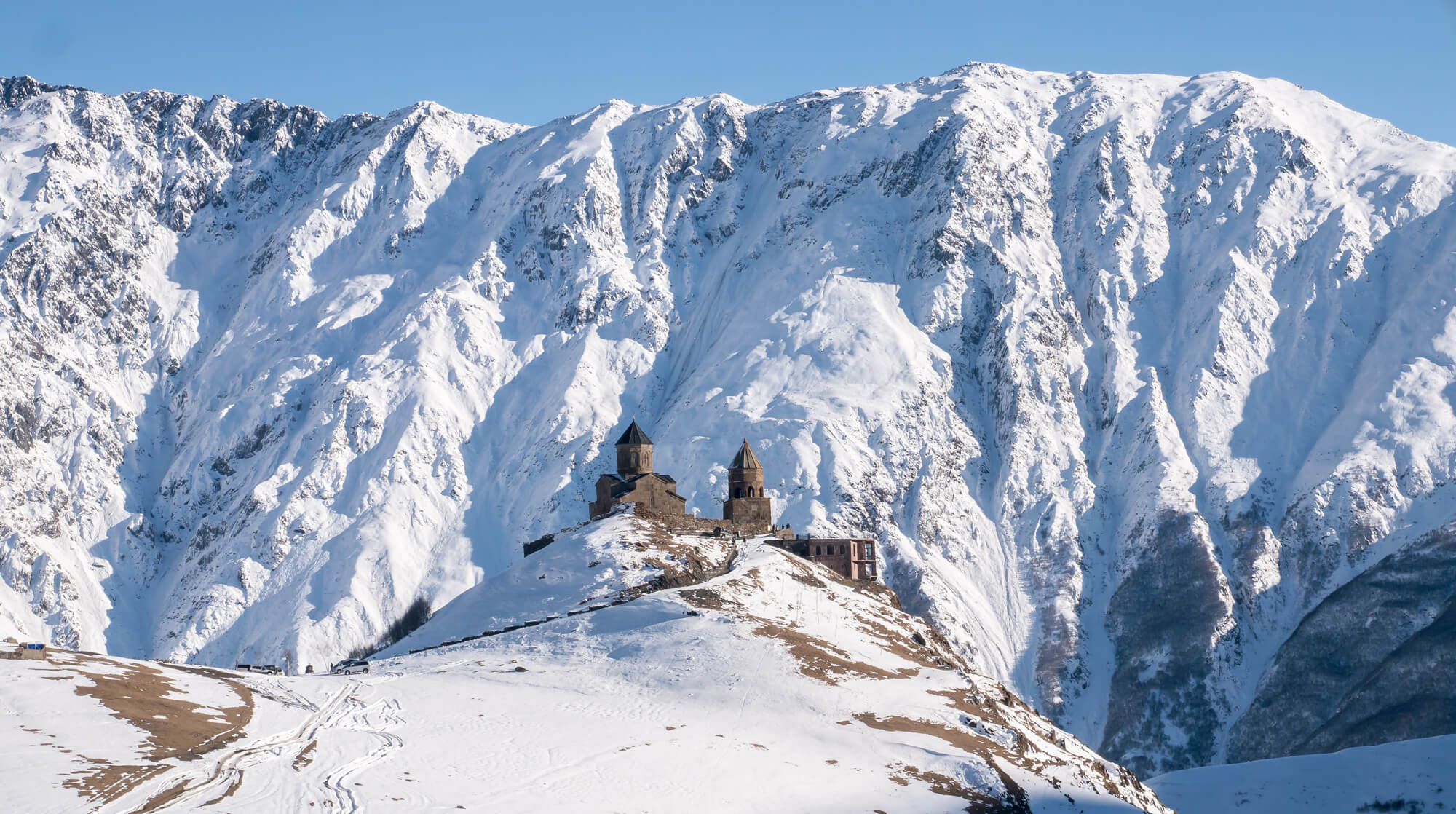 Arch of Friendship of Peoples, Museum in Kazbegi, Gergeti Church of the XIV century at an altitude of 2170m, dinner at the Rooms restaurant.
You will go on an exciting Journey along the most beautiful highway of Georgia - the Georgian Military Highway, which connects Georgia with Russia and is of great importance for the economy of both countries. The first stop on the route is the Arch of Friendship of Peoples, which is built on the Cross Pass itself. You can't miss it, because from there you can admire beautiful views of the mountain ranges, the calm flow of the Aragvi River, and the arch itself, the creation of the famous sculptor Zurab Tsereteli, fascinates with its grandeur. It was built in the eighties in honor of the bicentenary of the Georgievsky tract and in the name of the fraternal friendship of the Russian and Georgian peoples. When you have enjoyed the views and mosaic panels to your heart's content, you can continue on your way to the village of Kazbegi, which has been renamed Stepantsminda since 2007. Here you can eat local food, and continue to enjoy the Caucasus with renewed vigor. In the house of the writer Alexander Kazbegi there is a museum of local lore, where you can learn more about the culture and past of this region and get acquainted with the work of the writer himself. The next stage of the journey will be the ascent to the ancient temple of the Holy Trinity, in Gergeti. The church was founded at an altitude of 2170 meters, and is truly considered a divine place. Tourists note that there is an amazing surge of energy and peace. And of course, from here the most beautiful view of Mount Kazbeg and Stepartsminda.
To complete this journey, you will taste amazing cuisine at the Rooms restaurant with excellent views of Mount Kazbek.
Price
Цена тура на 1 человека 35 €
Minimum 4 people
Included in the price:
Accompanying a group with a guide
All entrance fees
Transfer according to the program
Tour for those who are in Gudauri for 1 day.
To book a tour, you must make an advance payment - 20 % of the tour amount. Also, the prepayment is not refundable in case of refusal to participate. It is possible to organize tours individually for you.