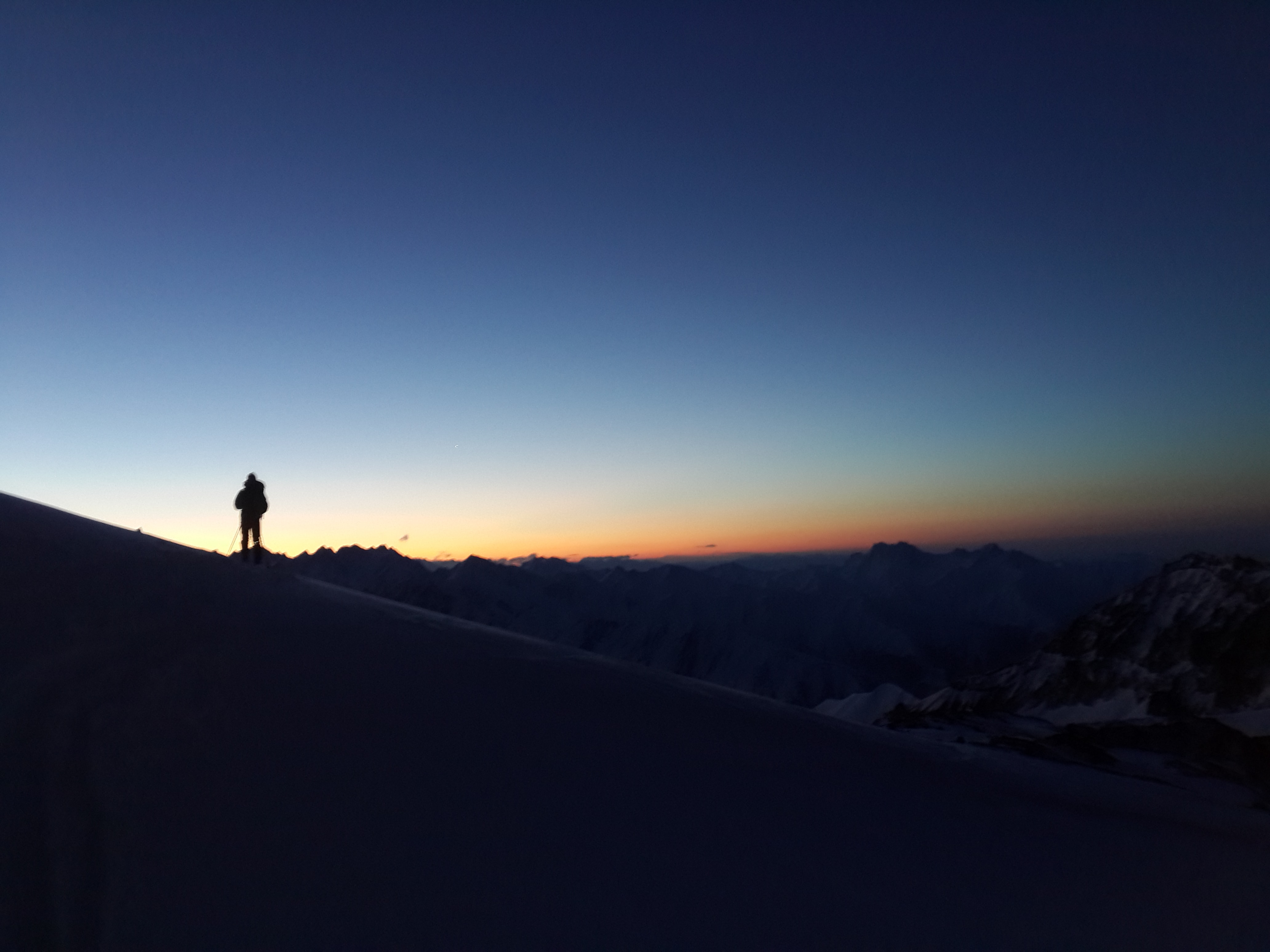 Kazbek is one of the most popular and beautiful glaciers of the Caucasus Range, height 5033 m. It is located on the border between Georgia and Russia, belongs to the part of the Khokhsky Range. On the Georgian side, at an altitude of 3600 m, there is a meteorological station where climbers undergo acclimatization and prepare for the ascent. Climbing from the side of Georgia, an excellent severe ski tour to Kazbek and descent down on skis or snowboard. Great option for those who don't want to go down on foot!
Note:
Starting points from 40 to 55º, this freeride route is for experienced riders only. Vertical drop in slopes and unstable snow on the terrain make the route very dangerous. This tour has descent lines with avalanche risk. Only a guide who is oriented in these places and knows the terrain can correctly assess them. Ski touring experience and good physical shape are a must!
Program Information
Difficulty: 5 out of 5
Tour duration: 8 hours per day
Altitude difference: 3000 ~ meters
Rise time: 8 hours
Highest point ▲ 5033 m.
Lowest point ▼ 2200 m.
Day 1 Ascent to the Gergeti temple (2170m) by car. Ascent to the Bethlemi Hut weather station (3635 m.) 7-9 hours. Overnight and dinner at the weather station (food prepared in advance is distributed among the backpacks of the group members. Guides are responsible for cooking, but those who wish can always join).
Day 2 On this day we will go through acclimatization.
Ascent to the Kazbek plateau (4500m), descent down to Bethlemi Hut, where there will be a second overnight stay.
Day 3 Climbing Mount Kazbek (5033 m.). The ascent takes 7-8 hours. Descent down to Bethlemi Hut. Overnight at the weather station. (or it is possible to descend to the Gergeti temple (2170m.)
Day 4 Spare day (if necessary).
Day 5 Descent down to the Gergeti temple (2170m.)
Price
Tour price for 1 person 655 $
Included in the price:
Guides accompanying the group
Transfer to the place Gudauri-Stepatsminda-Gudauri
Accommodation at Bethlemi Hut 3560m.
first aid kit
Meals on the tour (breakfast, lunch and dinner)
Required equipment:
Telescopic poles;
Backpack for carrying skis/snowboards 50-70 l.;
Sleeping bag, karemat;
warm fleece, helmet.
Dry rations (sandwich, water, thermos);
Shovel, beeper, avalanche probe;
Skitour crew;
Crampons, mountaineering harness, 4 coupled carabiners, ice ax;
Lantern for the head, small first aid kit, cord 7mm (10 meters);
To book a tour, you must make an advance payment - 20 % of the tour amount. Also, the prepayment is not refundable in case of refusal to participate. It is possible to organize tours individually for you.